Compared forecasts for March 19, 2014
And that was a warm day for New York this month. While the northern part of the country spent this winter dealing with the never-ending Polar Vortex, most people in Florida are just hanging out in very comfortable temperatures
ranging from the 60s (at the lowest!) to the high 70s
. Seriously, that's usually how low it gets in the winter. Florida may have to deal with a lot of Spring Breakers, but how can you blame those people? We get to wear shorts and t-shirts 365 days a year.
2. Miami is the only major American city founded by a woman.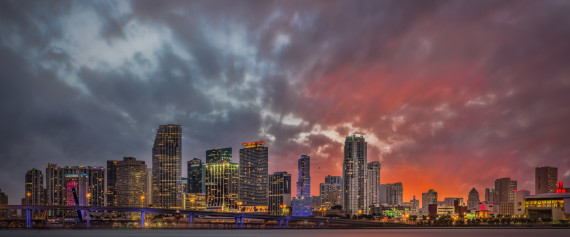 Betty Wiley via Getty Images
In 1875, Julia Tuttle first laid eyes on Miami when her father moved into the area as a homesteader. Tuttle decided to move to Miami herself and bought hundreds of acres of land. Miami officially became a destination when she convinced multi-millionaire Henry M. Flagler to extend his east coast railroad line to the area. Tuttle believed the Miami area had the potential to become a great city that would act as a trade center between North America and South America. And she was right.
3. Florida's Varying Landscapes and Cultures Make It Easy to Take a Weekend Vacation, and a Great Spot for a Custom Home.
Florida is big. It's so big that a four-hour drive will get you from Disney World in Orlando to the shores of Miami Beach, and that's only traversing a small part of the state. Florida's rich and diverse culture presents a unique opportunity to only drive a few hours and feel like you're in a whole different place. And that's a wonderful thing.
4. There are "hidden springs" with underwater caves you can snorkel in.
Ichetucknee Springs State Park
It's easy to understand why
Ponce de Leon thought Florida's natural springs were the "fountain of youth."
They are simply breathtaking. There are
close to 900 freshwater springs in Florida
, ranging from small ones emitting a little more than a trickle of water, to Silver Springs,
the largest spring in Florida
, which emits over 550 million gallons of water per day. Experiencing one of these springs is like entering a new world — you can swim in underground caves! Even better, the water temperature at the springs averages
70-75 degrees year-round
.
5. Florida has Cape Canaveral, the place that launches spacecraft into the sky.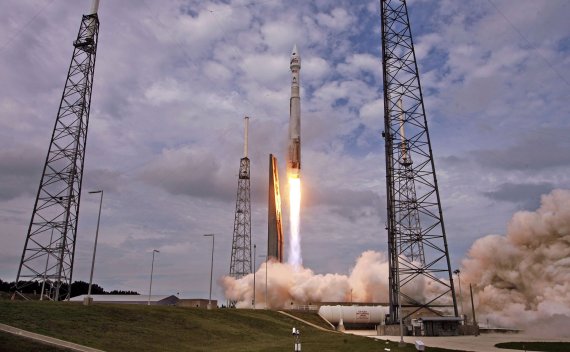 Orlando Sentinel via Getty Images
An AtlasV rocket, carrying the Maven spacecraft, blasts off at Cape Canaveral in November 2013.
When America decided to launch its space program,
Cape Canaveral's location in central Florida proved to be the perfect place due to its close proximity to the Equator
, which allows rockets to take advantage of Earth's velocity if they head eastward for orbit. NASA began building the Kennedy Space Center in 1962, and since then it's been the home of the Apollo space program and the location of many shuttle launches. Unfortunately,
the space shuttle program was retired in 2011
, but the site is still launching rockets, even if people aren't in them.
6. Florida brought the gift of Publix subs to the rest of the (southeastern) United States.
If you've never sampled a Publix sub at one of the grocery chain's stores across the South, you're missing out. We know Publix doesn't only exist in Florida, but it was founded in Winter Haven, Fla., in 1930. That means you owe it to the Sunshine State when you bite into that delicious Publix sub.
7. The Miami Heat is arguably the best team in the NBA.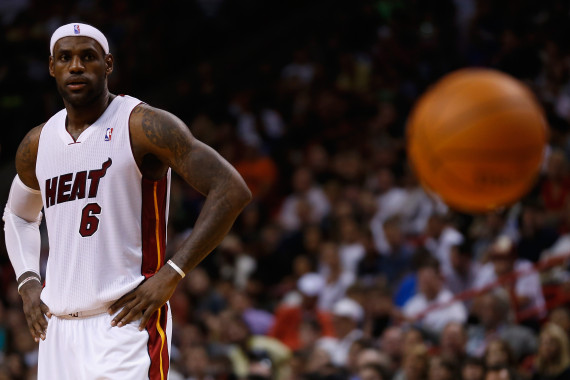 Christopher Trotman via Getty
The Heat won back-to-back NBA championships in 2012 and 2013, in no small part thanks to Lebron James, who is arguably the best player in the NBA right now. It looks like 2014 is going to be another extremely successful year for Florida's hottest basketball team.
8. The Orlando area attracts more visitors than any other amusement park destination in the United States.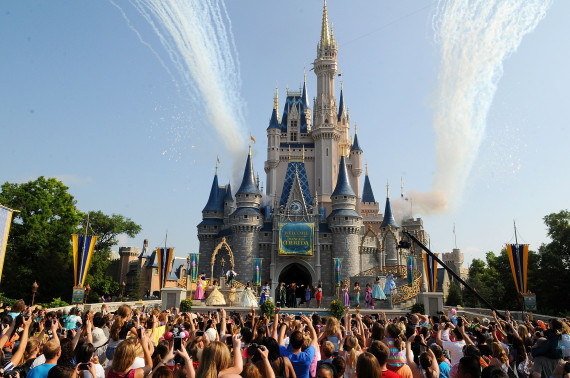 Gerardo Mora via Getty Images
It seems like there is an amusement park in Orlando that caters to almost any interest someone could have. We've got Islands of Adventure, LEGOLAND, Seaworld and Holy Land Experience, which is a "living, biblical museum that takes you 7000 miles away and 2000 years back in time to the land of the Bible," according to the park's website. Oh, and don't forget about Disney World — the behemoth of theme parks, which includes four individual amusement parks, two water parks, a downtown area, a boardwalk and a "Sports Complex."
9. Tampa's Cigar City Brewery makes some of your favorite beers.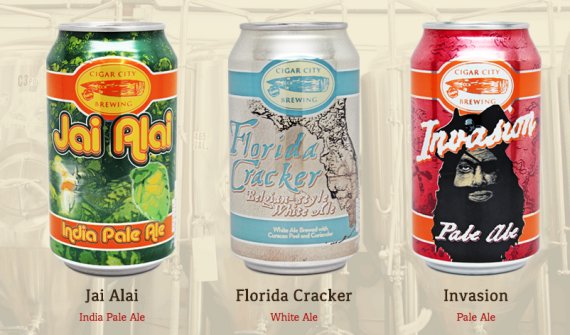 This awesome brewery makes the highly popular (among craft beer connoisseurs) Jai Alai IPA. According to their website, many of the beers they produce "reflect the sensibilities and ingredients of Florida." For example, they make a beer called Cubano-Style Espresso Brown Ale.
10. Florida provides the whole country with oranges.
Since orange juice is the state beverage, it's only fitting that the glorious orange is the state fruit. The fruit is a huge part of Florida's economy, as the state provides the country with most of its oranges. In 2012, Florida produced 70 percent of oranges in the U.S. And that's important, since our country's per-person consumption of oranges is higher than that of any other fruit, according to the Ag Marketing Resource Center.
11. Rainstorms rarely last longer than a couple of hours in Florida.
If there's one word to describe Florida's weather, it would be "unpredictable." One moment you could be tanning in the sun, and the next you'll be running to find shelter to escape pouring rain. The good news is that the rain will usually not last long. Rainstorms are caused by intense heat building up over the Everglades, resulting in afternoon downpours. But after a few minutes to a couple of hours, that sun is shining again.
12. St. Augustine is the oldest continuously occupied settlement of European and African-American origin in the country.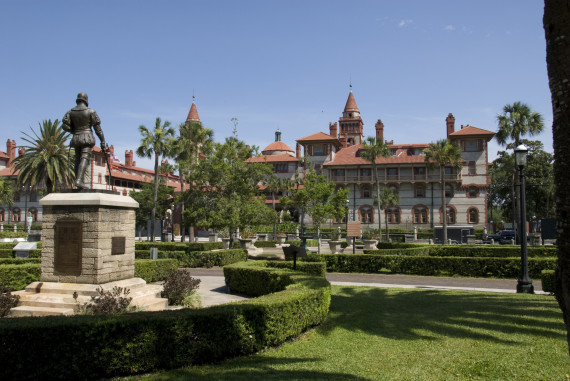 Dennis K. Johnson via Getty Images
That's right. In 1565, before Jamestown and before Plymouth Rock, the Spanish landed at St. Augustine, making it the nation's oldest city. St. Augustine can also call itself the only city in the U.S. with a street pattern and architectural environment that reflects Spanish origins.
13. The next time you're on a commercial flight, you should thank Florida.
In 1914, on New Year's Day, aviator Tony Jannus became the first pilot to carry a paying passenger in a plane. Jannus took Abe Pheil, the mayor of St. Petersburg, on a 23-minute flight across a 21-mile stretch of the Tampa Bay. It was the world's first commercial airline flight and would set the trend for the multibillion-dollar industry that exists today.
14. The absolute best stone crabs are in Florida.
Joe's Stone Crab, located in Miami, buys more stone crabs than anyone else in the world. The 100-year-old restaurant plays such an important role in the stone crab industry that the Monterey Bay Aquarium has awarded the eatery with its highest award, a "Best Choice" rating, for the restaurant's commitment to maintaining high fishing standards and keeping stone crab an important industry.
15. A Floridian invented America's first sunscreen, Coppertone.
It seems that living in scorching heat can actually help you create some pretty great things. In 1944, Benjamin Green, a pharmacist in Miami, invented Coppertone suntan cream, the first commercialized suntan lotion. He made it by cooking a greasy substance called "red vet pet" (red veterinary petrolatum), cocoa butter, coconut oil and other ingredients on his stove. He tested the cream on his bald head.
16. The diversity of wildlife and nature in the Everglades will blow your mind.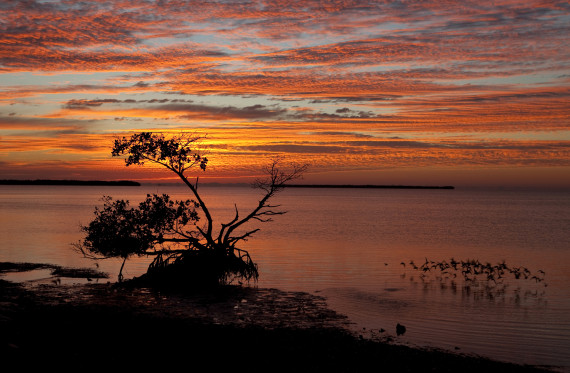 David Parsons via Getty Images
There is so much life and beauty in the Everglades, it's no wonder it's the largest subtropical wetland ecosystem in the country. It contains the largest mangrove ecosystem in the Western Hemisphere, the largest continuous stand of sawgrass prairie and is home to the most important breeding ground for wading birds in North America. These are just a few of the reasons we should pay more attention to trying to preserve this ecosystem.
17. The Cuban sandwich is Miami's most deliciously iconic dish.
If there's only one thing you do when you visit Miami, it should be getting an authentic Cuban sandwich. It's a beautiful marriage of thinly sliced ham, roast pork, Swiss cheese, pickles and yellow mustard on Cuban bread. But even though the Cuban is heavily associated with Miami, most people don't know that it really originated in Tampa. In the late 19th century, Tampa was a much bigger and more thriving city than Miami, so when economic hardships hit Cuba, Cubans migrated to the shores of South Florida. Therefore, many Cuban restaurants were built in the city, and that's when the sandwich first appeared. It was originally called a "mixto" due to the many meats it includes.
18. Thanks to Key West, we get to eat Key lime pie.
Key limes make for one sweet, tangy and ultimately delicious pie. This amazing dessert consists of egg yolks, canned or sweetened condensed milk and, of course, key limes. However, key limes have a tricky history. Apparently, when a hurricane in 1920 wiped out key lime plantations, South Florida growers replanted Persian limes, which are easier to pick and transport. So most "Key" limes in Florida are actually Persian, and Key Lime pie experts have noted that the Persian lime juice does not have enough acid to balance the sugary taste of the condensed milk in the pie.
Nearly every restaurant in Florida — regardless of its location — claims to make the "best" key lime pie, but here are some solid suggestions: Joe's Stone Crab in Miami, Kermit's Key West Key Lime Shoppe and Blue Heaven (both in Key West). There's also such a glorious thing as dark chocolate-covered key lime pie pieces, which you can buy right on the beach in New Smyrna, just south of Daytona, or various other places across the state where they sell these delicious treats.
19. If you can't get to Venice, you can just go to Fort Lauderdale, which has 165 miles of navigable local waterways.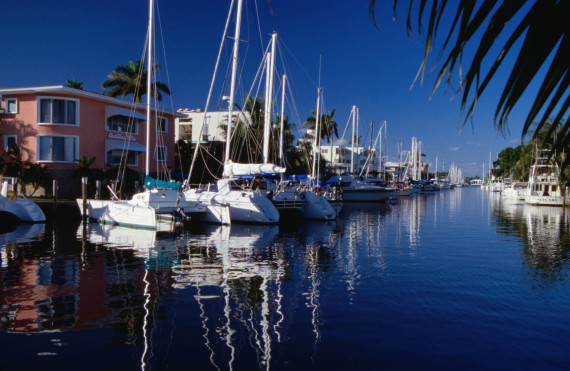 Peter Ptschelinzew via Getty Images
Face it: A trip to Venice, Italy, can be pretty pricey and take up a lot of time. But you can go to Fort Lauderdale, which is nicknamed the "Venice of America" due to its 165 miles of waterways and canals. Thanks to Fort Lauderdale, you can experience your own Venice right here in the U.S.
20. The Morikami Museum is the only museum in the U.S. dedicated exclusively to the living culture of Japan.
Whoever says Florida isn't cultured should take back that statement immediately. The Morikami Museum, in Delray Beach, is an educational museum that is also home to a beautiful Japanese garden. And it's the only museum in the entire country solely devoted to the living culture of Japan, meaning that the museum actually promotes current Japanese culture. Also, the Florida Museum of Hispanic and Latin American Art in Coral Gables is dedicated to the preservation, diffusion and promotion of Hispanic and Latin American Art.
21. You can hunt for — and actually find — shark's teeth on Amelia Island.
Just over the Georgia border on Florida's East coast lies Amelia Island, a 13 mile-long gem that is an awesome place to hunt for shark's teeth. According to the Examiner, the reason you can find so many there is due to dredging in a nearby river. Squint your eyes and look for a little black v-shape. It's probably a tooth! Just bring something to stash them in — you'll likely find a ton.
22. The state mammal is the manatee, and manatees are some of the gentlest creatures ever.
Manatees, also known as sea cows, are some of the calmest and gentlest animals. Their disposition has also made them one of the most endangered species in the country. Fun fact: Manatees are the only surviving marine mammals that eat only plants. Oh, and did we mention that they are so cute?
23. And finally: For Floridians, reading the newspaper is truly enjoyable.

Want to know the truth? Floridians are just laughing along with you. They have the most entertaining and mind-boggling news stories to wake up to every morning, and have the same reactions you do to the tales that come out of the state. Even though you may laugh at how crazy some Floridians are, for the people who live there, they know there is truly no better place in the world to be.